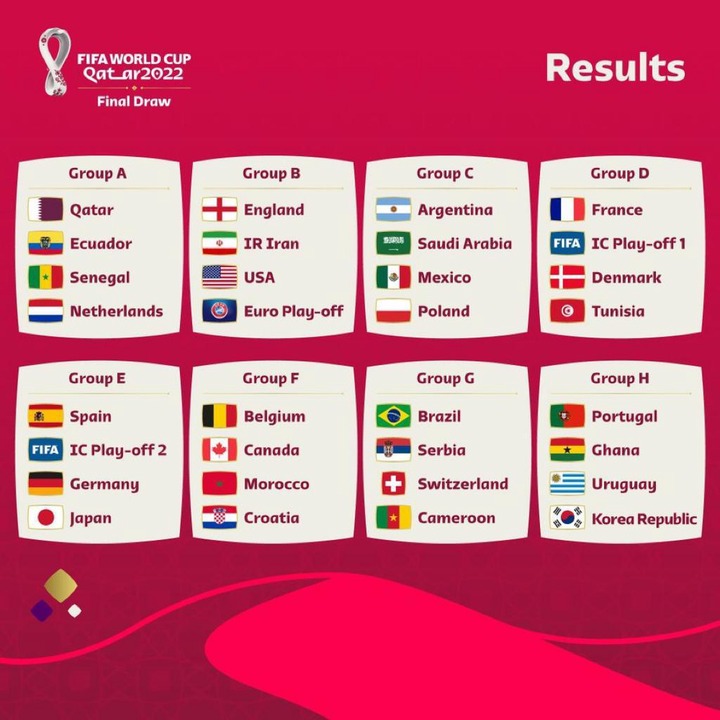 The FIFA World Cup group stage is finally drawn and it consists of eight group stages with 32 teams set to battle for one trophy which is scheduled to commence on November 21st, 2022 – a three-week and 6-days event. And in such regard here are our top two picks in each group.
Group A
Netherlands are one of the certain team to seal through the group stage along with Ecuador or Senegal. Host Nation Qatar looks to be out of the picture in this group given the strength of the other three teams. Ecuador and Senegal have proved to be solid sides but the best guess will be Netherlands and Senegal. Senegal are one of the resilient team which was evident against Egypt in the second leg and wouldn't be surprising if they pick two wins in this group.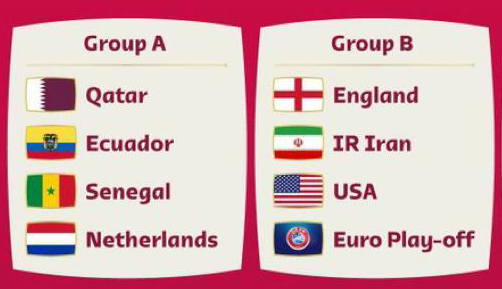 Group B
England, IR Iran, USA are drawn alongside either Wales or Scotland/ Ukraine who's fate will be decided in June 2022. Aside from England who looks certain, the rest look favorite and can pull a surprise, especially Ukraine if they qualify. So going forward, our best guess will be England and Ukraine.
Group C
Argentina are surely the frontrunner in this group alongside Poland pushing Mexico and Saudi Arabia out of the competition.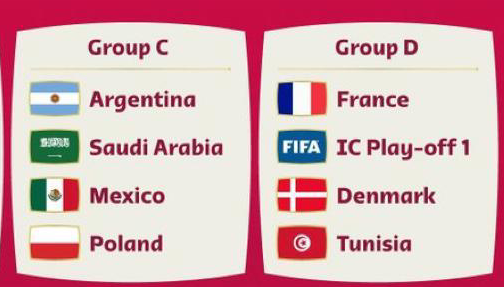 Group D
In this group, current World Cup champions – France are drawn against Denmark, Tunisia, and either Australia or Peru which will be decided in playoffs. However, Peru looks solid and might join the existing teams. Also, guessing on the best two picks in this group and beyond, France and Denmark look likely to lead.
Group E
In this group, there is not much to debate about since two giant Nations are drawn together thus Spain and Germany. Playoff contenders Costa Rica – New Zeeland and Japan's progress in subsequent stages are high deem impossible.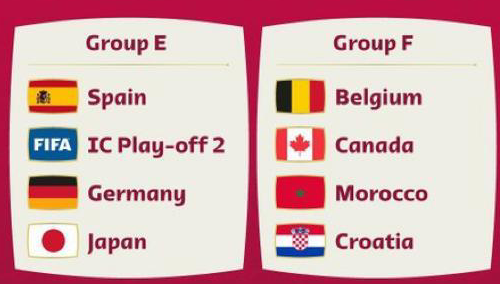 Group F
Belgium, Canada, Morocco, and Croatia are drawn here and Belgium seems to be the strongest of all. Aside from that, any of the other three teams have high expectations and can pull a surprise and our best guess will be Croatia who holds a record of (7W, 2D, 1L) during the qualifiers.
Group G
This group sincerely is the toughest group of all witnessing Brazil drawn against Serbia, Switzerland, and Cameroon. These teams have good attacking qualities and a pack of midfielders, however, our best guess to seal through successfully are Brazil and Switzerland. Serbia are also a pretty decent side with a solid and promising team but seems to have troubles with the defense and if that's fixed there might be a fighting chance. Likewise, for Cameroon, they seem to be no balance in the team, especially with the striking force where every player wants to put his name on the score sheet.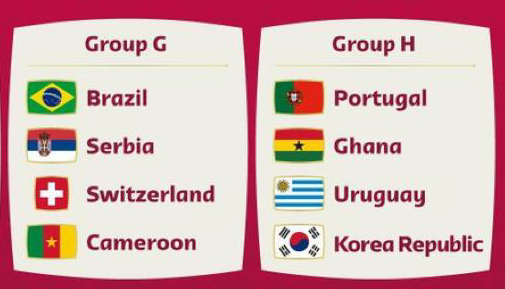 Group H
Last but not least of all groups, Portugal, Ghana, Uruguay, and South Korea makes group H. A highly anticipated group given the history between Ghana, Portugal, and Uruguay. South Korea seems to be out of the picture given their lack of power in midfield and defense and is most likely to be joined by the Asia side in Ghana – who seems to have a weak striking force, unlike Uruguay and Portugal.
What are your best two picks in each group?.