Making the World the best place to live happily, safe and sound – FIFA president Gianni Infantino has delivered a message through a video urging everyone to help preserve the environment by raising a "Green Card" to symbolize it ahead of the 2022 World Cup in Qatar.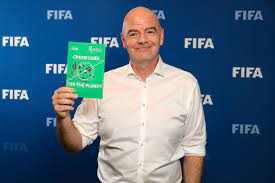 Today happens to be the 5th of June, the message is believed to be linked to World Environment Day – an annual celebration to remember and encourage people to desist from practices that harm the environment which aims to make the 2022 FIFA World Cup carbon neutral.
Infantino highlighted words in the video "As the FIFA President, and today happens to be the World Environment Day, I am asking everyone who loves football and who cares about the environment, to raise FIFA's Green Card for the Planet". He continued "FIFA is playing its part, to make the FIFA World Cup Qatar 2022 Carbon neutral".
Ending the message, he encourages everyone to prepare their own FIFA green card [which is now a FIFA card ahead of the World Cup] and record a short message across social media suggesting ways to preserve the environment.
Source: MyJoyOnline.com