Banned from participating in FIFA activities in 2015, former FIFA President Joseph "Sepp" Blatter and his vice-president Michel Platini have been found not guilty in the court of law.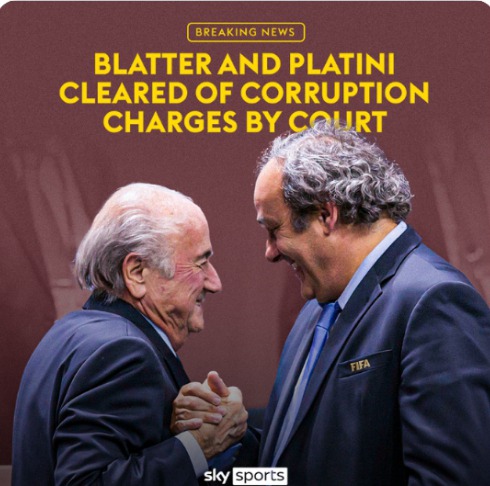 The pair were alleged to have received payment of over 2m swiss Frances (€1.6m) in 2011 and were indicted in 2015.
And after a long trial which lasted for 11 days, they were found not guilty in Federal Criminal Court in Bellinzona, Switzerland.
Sepp Blatter on his arrival to court earlier today said- "I am not innocent in my life but in this case I am innocent." And was found so alongside his Vice President Michel Platini.
The court case:
It was alleged that Blatter, 86, and Platini, 67, forged documents to be overpaid.
Blatter in his defence said he asked Platini to be his adviser when he was first appointed as president in 1998 and on salary negotiation- the former France captain [Platini] wanted 1m swiss francs (€816,030) per year.
But they settled on 300k (€244,809) with the outstanding balance to be paid on a later date.
And after four years [2002], Platini stopped working for FIFA but did not pursue the rest of the payment until 2010 and in January 2011 was paid the outstanding balance.
Which led the Swiss Office of the Attorney General to accuse the pair of "Fraud" as well as forgery of documents.